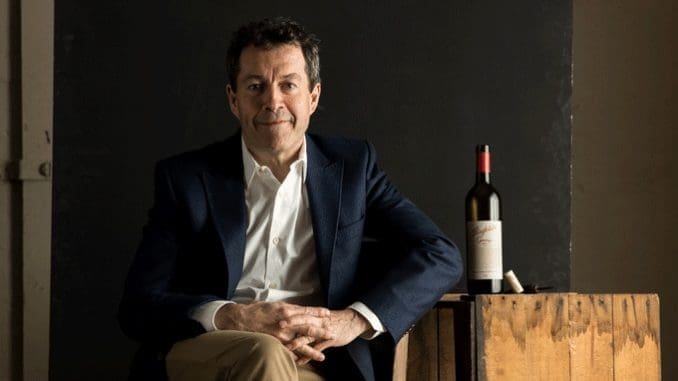 Last October, Peter Gago, Chief Winemaker at Penfolds received one of the highest honours in the wine world: admission to the Decanter Hall of Fame, awarded just once a year to a wine great. Gago has been chief winemaker for 19 years and is the fourth Australian to be bestowed with the honour. During his tenure the company, which is owned by Treasury Wine Estate, has reached new heights of excellence.
Before him, Max Shubert, his predecessor at Penfolds and the father of the Grange series of wines, was inducted in 1988; Len Evans in 1997 and Brian Crosier in 2004. The hallowed halls at Decanter are lined with portraits of giants – Jancis Robinson MW, Steven Spurrier, Robert Mondavi, Emile Peynaud, Aubert de Villaine, Angelo Gaja, Piero Antinori and Miguel Torres, to name
just a few. And now Gago is one of them.
Decanter's Editor-in-Chief Chris Maillard says, "Our Hall of Fame Award has recognised many of the wine world's most eminent figures over the years, and there was no doubt in our jury's minds that Peter is very much deserving of the honour. His stewardship of Penfolds has seen the company and its wines go from strength to strength. A worthy winner."
When I met Gago in Singapore, he was on his first trip outside Australia since the lockdown and his itinerary was justifiably long. Gago is Penfolds' highly sought-after Brand Ambassador. When not overseeing a vintage, he is often on a plane traversing the globe for his multiple speaking engagements.
"I am extremely humbled," he said about the Decanter recognition. "What it means is that I don't get sacked for another six months."
Peter Gago is Penfolds' highly sought after Brand Ambassador. When not overseeing a vintage, he is often on a plane traversing the globe for his multiple speaking engagements
Gago is a master of self-deprecating humour. He is a gifted orator, humble, generous, gracious and Penfolds' chief storyteller, holding his audience's attention with rich anecdotes sourced from his 32 years in wine, peppered with his endearing modesty. I asked him where he goes after this. He was quick to divert attention from himself with a reference to Orson Wells' Citizen Kane. "That was
his highest achievement. It was all downhill after that," he joked. Hardly so. Peter Gago's career is a litany of accomplishments. Born in Newcastle-upon-Tyne in England, in 1957, he was six when he moved to Australia. He started his career as a secondary school Math and Chemistry teacher, a profession he loves to this day.
When he decided to switch careers to winemaking, he graduated as dux (top of the class) from the Bachelor of Applied Science (Oenology) at Roseworthy College, Adelaide. In 1989, he joined Penfolds as Sparkling winemaker and later, in 2002, took over the reins from John Duval as chief winemaker.
He is the fourth chief at Penfolds and under his tutelage, the brand has grown by leaps and bounds. In 2017, he was awarded the Order of Australia (AC) and in 2018, he received an Honorary Doctorate from the University of South Australia. He has co-authored numerous wine books and as a Hall of Fame inductee, he has summited the pinnacle of the wine world. But Gago is far from done. Wine is his passion, and he says he is lucky to be paid to pursue it.
THE ACHIEVEMENTS OF THE PAST
He was in town to promote G5, Penfolds' last installment of the G series. The G stands for Grange and Gago is the genius behind it. The first installment, the G3 – a blend of 2008, 2012 and 2014 was launched with some trepidation in 2017. The G4, a blend of 2002, 2004, 2008 and 2016 was released in 2020. Both wines received critical acclaim and went on to line collectors' cellars. Released to coincide with the 70th year of Grange, G5 was, naturally, keenly anticipated by collectors. It is no surprise that almost all 2200 bottles are already sold out, despite its astronomical price of AUD 3995.
G5 was keenly anticipated by collectors. It is no surprise that almost all 2,200 bottles are already sold out, despite its astronomical price of AUD 3,995
"The G series is the essence of Grange," Gago notes, as we sip the rarefied wine. "It's got that lovely bit of barrel ferment character, that lovely glacial lift, that subliminal, volatile character." He picks red fruit descriptors, liquorice and hoisin notes. "On the palate, it's so smooth, no rough edges. It's not big nor oaky."
Gago won't release the percentages of the vintages blended, because in his words, "G5 is synergistically developed in barrel, and matured as a blend, not its components. With blending, it is a sum of its parts." He went on: "Each of the five vintages sensitively brings its own personality and contribution to the blend. The lovely completeness of the '10, the voluptuousness of the '16."
Gago says there are no plans to release a G6 or G7, which he fears would end up being nothing more than a solera. Besides, he adds, "It is to respect the people who are invested in this. Otherwise, it becomes just another wine; at present they have something quite finite and very collectible."
Blending vintages is not for the faint hearted. Though widely practiced in Champagne with their reserve wines, still wine is rarely blended. Only Vega Sicilia and Chapoutier have attempted it so far, and now Penfolds. It's risky, by Gago's own admission and expensive, but if one thinks of the spirit of innovation that has defined Penfolds since the day of Max Shubert, one realises why a blend of the iconic Grange was a risk worth taking.
THE CALIFORNIA COLLECTION
Earlier in the year, the same spirit of innovation was prominent with the launch of The California Collection – four reds from Penfolds properties in Napa, Paso Robles, and Sonoma. Two of the wines pushed boundaries more than others; they were blends of California and Barossa grapes, namely the Bin 149 and Quantum 2018. As it turns out, they could be legally labelled 'Wines of the World' and Penfolds did so without hesitation. Surprisingly, they were a hit. Of course, the wine community of MWs and WSET graduates were confounded, much to Gago's amusement. "This project 149 was created to offend every WSET and MW student. It had nothing to do with making a better blend," he jokes, keeping a straight face.
THE START OF PENFOLDS' FRENCH ENDEAVOURS
In 2019, his love for sparkling wine led him to create a collaboration with Champagne House, Thiénot, where he blended three champagnes: a single vineyard blanc de blanc and a blanc de noirs and a non-vintage cuvée. A non-vintage rosé will be released next.
It's the start of their French endeavours, he says. "It'd be nice for us to purchase some Grand Cru vineyard and champagne," sharing the news of a recent purchase in Bordeaux of three properties around Château Cambon La Pelouse by the parent company, Treasury Wines. Expect a new French venture announced soon and if it has a drop of Barossa cabernet, so be it.
Back in Australia, his eyes are set on creating a fine white wine. "We've never had a special Bin for white, maybe Tasmania is the place for something that's above our Yattarna Chardonnay," he says.
Peter Gago's eyes are set on creating a fine white wine. "We've never had a special Bin for white, maybe Tasmania is the place for something that's above our Yattarna Chardonnay"
PETER GAGO'S LEGACY
Gago is certain his legacy won't be his name on a bottle. The marketing department has tried for years and given up. He says, "The biggest achievement is to have protected the style and quality of Grange and other wines in our Annual Penfolds Collection release across the years and across a myriad of climatic and management cycles."
The big question looming is retirement, but Gago is in no rush to hang up his boots. "If I retire, how will I pay for this?" he says as the room breaks into laughter. "This is why I got into wine. I couldn't afford the habit, and nothing's changed."