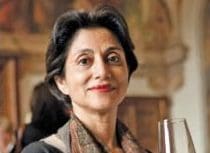 As I wrote this note, I wondered if the dog days of summer in Delhi would ever end. There seemed to be no respite from the heat and the monsoon was a mirage that receded with every sultry day.
The ill effects of environmental depredation are all around us. The hills have been denuded, deforestration has taken its toll, weather patterns have changed. Nature has been exploited to the
maximum and its resources depleted. If we are affected by global warming in our everyday lives, imagine the straits of the farmer and vigneron.
The real impact of climate change and the importance of biodiversity was brought home to me during a recent press trip to Avignon and Châteauneuf-du-Pape where I had the privilege of participating in the "Vignoble et Biodiversité" conference organised in partnership with the Federation of Winegrowers' Unions of Châteauneuf-du-Pape by wine expert and journalist living in Paris, Birte Jantzen, who was the moving spirit behind the multidisciplinary symposium.
At this, the first ever high-powered symposium of its kind, academics, scientists and winemakers highlighted the dual concerns of saving the environment from the ravages inflicted on the natural landscape and the importance of biodiversity in building 'the viticulture of tomorrow'. Supported by field examples, the topics discussed were stimulating and thought-provoking, with the sobering reminder that 'the future of tomorrow is today'.
SI's new issue is unusual in that it has solar panels on the cover. The image is from Sula Vineyards, which recently announced an IPO to raise equity of up to Rs 1,400 crores from the market. For all its success, Sula is also very environmentally conscious as the article on page 24 makes clear. Human intervention has done so much harm that now, it notes,"there's a definite need to balance the act" and "India's largest winery is already leading by example". Although not on the same subject, the aptly titled article on page 52, "As Nature Intended" echoes the theme while describing how popular natural wines have become around the world.
Our columnists' view of the wine scene always makes interesting reading, whether it's the rationale behind the high cost of luxury items (p. 13), wine jigsaw puzzles (p. 14) or our lack of interest
in the Languedoc region and its wines (p.16).
Despite being a challenging vintage with mixed results, the 2021 Bordeaux En Primeur tastings (p. 30) show there are still opportunities for savvy collectors who invest in fine wine futures. From
articles with information you can use, such as the one on wine spas (p. 62) or shopping for wine (p. 70) to an analysis of the wines of Piemonte (p. 42), my hope is this issue will have something of
interest for everyone.
Thank you for reading Sommelier India, India's first magazine on wine.